Flickr Creative Commons Photo by jessicahtam
UNplugging, to recharge, seems counterintuitive in this "plugged in" world. "Have you seen my phone charger?" or "Better plug the computer back in … it's down to 5% battery!" are common conversation threads heard in our home. It is RARE for me to be away from my computer … from twitter … from my amazing online PLN … for such an extended period of time. I didn't think I "needed" this down time, but it is apparent that it was EXACTLY what I needed.
Flickr Creative Commons Photo by Quinn Dombrowski
We've been away for the past two weeks, my family and I. I am amazed by what we were able to fit in during those fourteen wondrous days.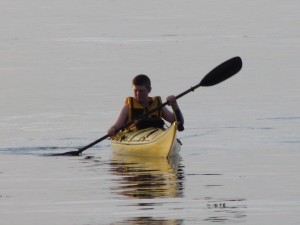 Kayaking with my "youngest" – Vancouver Island Magic!
Sitting, surrounded by family, watching the sun set over the ocean in awe.
There is something rejuvenating about hanging out by the water. Actually, I don't TRULY feel like I've had a holiday UNLESS I have spent time at the ocean. Don't ask me how I ended up in Alberta, so FAR away from the ocean I love … life works in MYSTERIOUS ways! Walks on the beach with my Mom … around the neighbourhood … even a trip to Coombs … to see the goats on the roof! Family time. It doesn't happen OFTEN enough. Once or twice a year … definitely NOT often enough.
There were MANY highlights on this trip. Making cards with my Mom. Searching the beach for special treasures to glue to these cards. And … a SURPRISE trip, through the Courtenay Museum, to hunt for 85 million year old fossils in the shale beds along the Browns River. A dream come true, for me!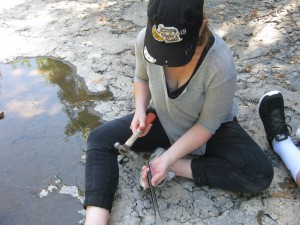 Hunting for ammonite fossils on the Browns River on Vancouver Island.
A "mud ball" … tucked safely in the layers of shale … just WAITING to be discovered!
Prior to arriving at my parent's house, my Dad had been doing some researching. He knew how much I enjoyed rock hounding and discovering various fossils on the beach. Actually, we share the same passion … something I didn't realize quite to THIS degree! When he discovered this incredible tour and actual fossil digging opportunity, through the Courtenay Museum, he signed us all up immediately! And, what an AMAZING experience it was! Pat Trask, our paleontologist guide, was FANTASTIC! If you are in the Courtenay area … this is an experience that is worth its weight in gold.
Fossil Tours at Courtenay & District Museum from Courtenay & District Museum on Vimeo.
Sitting in the dirt, with a chisel and small hammer, "sifting" through the layers of shale by the river was PURE heaven. I learned SO much through this process and loved every second of it. We managed to find ammonite, animal "trails", small shrimp claws … how you would "recognize" these tiny fossils without expert support is beyond me! I had NO idea that you wouldn't find the ammonites tucked nicely between the layers of shale, just ready to be "plucked out". Instead … our expert guide, Pat, showed us how to locate the "mud balls" pictured above. The shale would just peel away and, with a little persistence and perspiration, you could eventually arrive at something "rounded" in the shale. Easy to see, once you know what you're looking for! Working carefully to remove the surrounding shale … an entire mud ball would sometimes magically appear.
If you gently hammered on this mud ball, it would crack open … just like a KINDER surprise … sometimes with a tiny, or NOT so tiny in the case of ammonites, fossil hidden away inside. Not all mud balls produced an actual visible fossil. Some were formed around soft tissue animals, which would "dissolve" over time in it's 85 million year old cocoon, leaving the mud ball behind as evidence of its existence.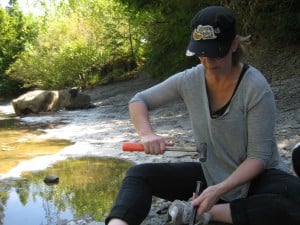 A fossil "kinder surprise" for paleontologists!
I didn't have this rock or fossil passion as a kid. It took teaching the Grade Three Science Curriculum to push me BEYOND gathering up "pretty" rocks … into a HUGE interest in fossils, rock formation, and actually SEARCHING for fossils. I guess it's NEVER too late to teach an old dog new tricks! The BEST part, aside from spending some WONDERFUL time with my parents, my Dad is ALREADY passionately scoping the area for NEW places to explore NEXT summer! I CAN'T wait!
My Dad … safely on the ground … still searching!
My ONE regret … not being FAST enough with the camera as my Dad clung, spider-like, to a steep shale cliff and uncovered a RARE ammonite that even excited our GUIDE! I hope that image stays as clearly etched in my memory as the true magic of the day!
Yup. UNplugging was JUST what I needed!