"Look deep into nature, and then you will understand everything better."
— Albert Einstein
I was blessed to spend an entire day, with my parents, in a place with such beauty … searching for keys to the past. Last year was our very first fossil hunting experience together; an amazing surprise my father had "pulled out of a hat" prior to our Vancouver Island visit with them in August. He knew how much I enjoyed searching for rocks and fossils … and it was an experience that ignited excitement in BOTH of us! Since that amazing day, last August, my Dad has spent hours researching NEW and exciting places to explore … frequently dragging my Mom along with him! Now, I KNOW that this is probably quite LOW on her scale of "things I love to do", but I know for a FACT that my Mom would do ANYTHING for the two of us … including trekking deep into a river canyon, sitting patiently on rocks while we hunt and pick, handing the "tools of the trade" to us when we discover a "concretion" tucked safely in the shale … yup … she LOVES us!
Many of the concretions we discovered held very little "concrete" evidence of the life encased within … unless you knew, like we did, that each concretion is the result of a living creature that died and, as it decayed, a chemical reaction occurred to create the special "mud balls" we were finding. *Don't laugh. That's about as "scientific" as I can get with THAT explanation!
It doesn't take long to figure out what you're looking for. We found THIS concretion on the river valley floor. The river was VERY low because of an unusually hot, dry summer. MANY of the concretions we locate are in the shale BANKS of the river … but … you can find them EVERYWHERE once you've found the right shale bed formations.
I can't explain how exciting it is to "find" a mud ball deeply encased in the earth … but, for me, it is such a magical experience to spot one and begin the process of slowly "freeing" it from its cocoon. Using the chisel and the pick? Well … that's just PART of the magic. While I DON'T know that I could do this for a LIVING, I DEFINITELY know that it is ONE of the passions that make me tick!
Earlier this year, while scoping out some future spots for us to dig, my Dad found a couple of OTHER fossils that looked like this. We are speculating that they just MIGHT be BONE! The verdict is out until the professionals take a closer look. One can ALWAYS hope!
But, the find of the YEAR goes to my Dad. Actually, in the two years that we have been doing this together … this is the BEST find EVER:
The day certainly WASN'T without its casualties. My Dad, in his quest to unearth a particularly LARGE concretion, whacked his hand not once but … FIVE times with the hammer. He could NOT be stopped, though, and CONTINUED his hunt for several MORE hours! Finally, after a week of swelling and intense bruising, he went to the doctor to see if anything was broken. Wouldn't you KNOW it? The doctor sent him away with GOOD news AND another potential spot for NEXT year!
In the BLINK of an eye, the day was over. The scenery … spectacular. The company … even better. The MEMORIES … will be FOREVER etched in my heart and mind. I cannot WAIT to share these specimens with my new Grade Threes. I cannot WAIT until my NEXT adventure with my amazing parents.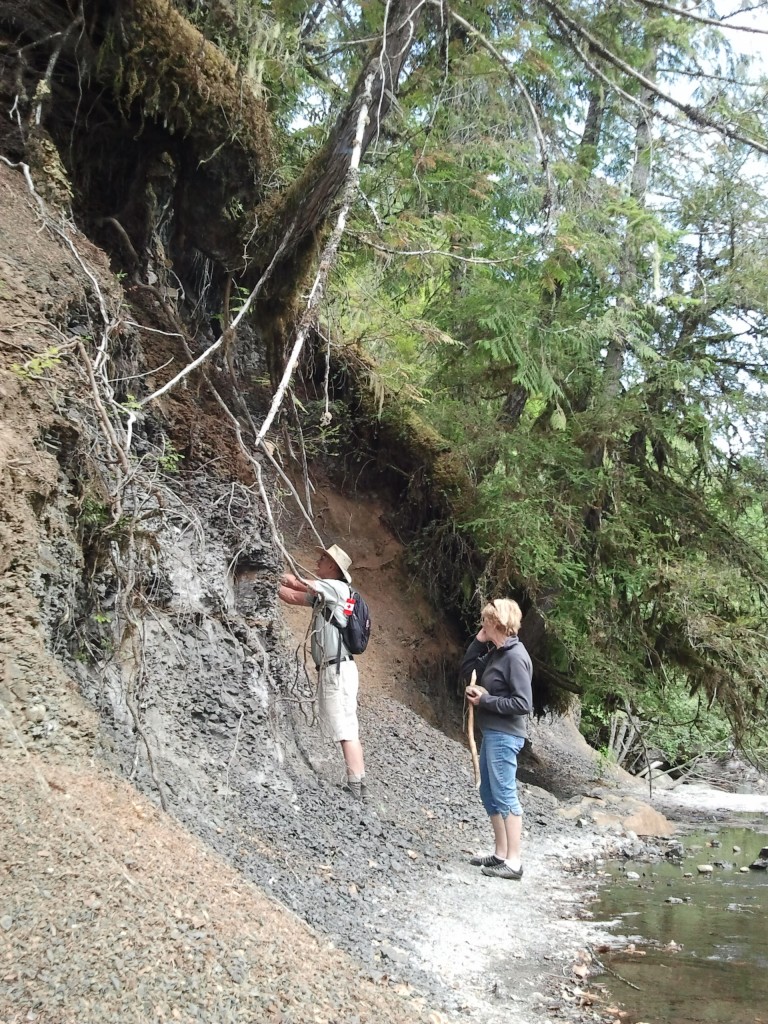 I know, in my SOUL, that I need MORE days like this. Days of low tech … armed only with a camera … spent with family … and MAYBE some fossil hunting tools!
"Turn your face to the sun and the shadows fall behind you."
— Maori proverb