"I have no country to fight for: my country is the earth, and I am a citizen of the world."
~ Eugene V. Debs
Flickr Creative Commons Photo by martinak15
When we first began our blogging journey with eight year olds, two years ago, a HUGE amount of groundwork was laid prior to our very first post. Looking back, those first building blocks seem SO insurmountable … but … we've done it, and I wouldn't change a thing about it! Learning WITH the world has proven to be a POWERFUL way to personalize and DEEPEN our curiosities.
Prior to beginning this "new" way of learning, we spent a great deal of time exploring other class blogs to see all the "possibilities" and to get a sense of our hopes for our new blog. You see, this was a pilot project – the very first classroom blog in our system. We knew that, if it was going to be a success, we needed to be VERY clear about what success would LOOK like!
As I write this post, I see this process much like the steps needed to build a strong, durable, long-lasting structure. There is the "planning stage" … drafting the vision out; it is an extensive AND intensive process that is necessary to ensure a successful project. Next, there's the building stage … from the ground up.
The foundation, for us, included extensive thought around how we would keep these young students safe. Because this was a pilot project, we were responsible for drafting a permission form for parents so that they were very clear about the blog being available, online, for all the world to see. Some of the information in this consent form included: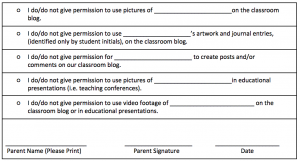 Once all consent forms were completed and returned, it was time to begin the process of "getting our feet wet" as a class. This included activating background knowledge to see how many students knew what a blog was. It was no surprise, that first year, to see that only one or two students could explain what a blog was. This was because family members had personal blogs! Gathering this information, as a class, allowed some students to share their personal experiences as we moved toward the unknown.
Within the safety of a classroom setting, we began to explore a variety of educational blogs with our young learners. What did they notice? What did they like? What would they change? These first steps, laying a solid foundation together, proved to be valuable learning experiences. It was exciting to listen to their conversations as they explored, and heartening to hear their critiques and compliments as they surfed through a variety of classroom blogs.
We knew immediately, that our blog would NEED to include a "flag counter" and a revolver map … this was a HUGE hit with our learners. They LOVED the idea of collecting flags from around the world and SEEING who was checking our blog out on the revolver map. The visual nature of these two tools helped to foster greater curiosity about the world we all share.
Flickr Creative Commons Photo by John Spencer
Safety, both on AND off line, was ALWAYS at the forefront. Blogging with these students provided authentic discussions, lessons and experiences DAILY. What made these lessons AUTHENTIC was the fact that they were not isolated lessons … they were woven in and through our blogging journey each and EVERY time we engaged in learning online.
Early on in our connected learning, we lost ALL our flags. There was HUGE disappointment with students AND adults alike. When I say "lost", I mean I had to disable the flag counter widget. I was heart broken … but … at the same time I KNEW that I could not have my eight year olds exposed to the "less than appropriate" advertising that would come up if they "clicked" on this widget to learn more about the countries that were visiting us. I actually DREADED having to go into the classroom on Monday morning to tell these excited students what I had done.
After a few tears, and an AMAZING conversation about WHY … we began to "problem solve" together. They fully understood the importance of safety and the responsibility we ALL shared for being safe and thoughtful bloggers … SUCH amazing eight year olds! In the end, I ended up paying for a yearly subscription to our amazing flag counter. It has been worth EVERY penny to continue our learning AND our safety!
Flickr Creative Commons Photo by eren
Introducing your students to learning WITH the world, by FLATTENING your classroom walls, requires on-going thoughtfulness about safety and citizenship. These issues have ALWAYS been a part of classroom life … but … now … it ALSO includes how to be safe and responsible while learning ONLINE. I truly believe that the YOUNGER we begin discussing these issues the more personally responsible decisions our children will make for themselves as they get older.
There are SO many wonderful sites available to support these conversations with our learners:
Digital Citizenship Livebinder
Digital Citizenship Development Guide (Alberta Education)
Early Learning in a Digital World
Social Technology and Digital Citizenship
21st Century Learning and Teaching
More 21st Century Learning and Teaching
These are just a FEW of the amazing resources out there to support going global. What works best, though, is continual discussion, thoughtfulness and reinforcement of these concepts in and THROUGH your daily learning experiences.
ANY time we're working with learners, there are opportunities for valuable mini lessons:
first names only

what personal information IS okay to share?
how to respond respectfully to comments left behind on your blog
how to LEAVE a respectful comment on ANOTHER blog
using someone's photos and ideas fairly, (creative commons attributions) … yes … even eight year olds understand this!
how do you know whether to trust a site's information or not
These are just a FEW of the possibilities for discussion that come up NATURALLY through your connected learning experiences. The goal is to help our learners develop an effective filter between their ears. We won't always be with them. They WILL go online when adults aren't around. These tools are NOT going away. We will CONTINUE to learn with the world … so … the SOONER we start with our children, the BETTER. After all … we want them to be SAFE, THOUGHTFUL global citizens … both on AND offline  … and for GRANDMA to be PROUD!
"The most important thing an institution does is not to prepare a student for a career but for a life as a citizen."
~ Frank Newman